The Civic Quarter site sits to the south of Farnborough town centre and has been identified as a significant opportunity to develop a new heart for the town.
The masterplan area is currently home to the library, offices, a skate park, the former Elles Hall and police station sites, Farnborough Leisure Centre, car parks and open space. The Civic Quarter regeneration proposals would see this transformed into a mixed-use space with new opportunities for town centre living, alongside ground floor spaces for cafes and restaurants, library and community space. It would also enable creation of Rushmoor Borough Council's separate plans to provide a new leisure centre.
Early public engagement on the Civic Quarter
As part of the 2019 public consultation and vision workshops undertaken by the Council and GT3 architects, they asked for feedback on people's perceptions of the Civic Quarter site and Farnborough as a whole. As a result of these responses, eight key objectives for the masterplan were established, and will be used to bring forward future development. These objectives are shown on the right.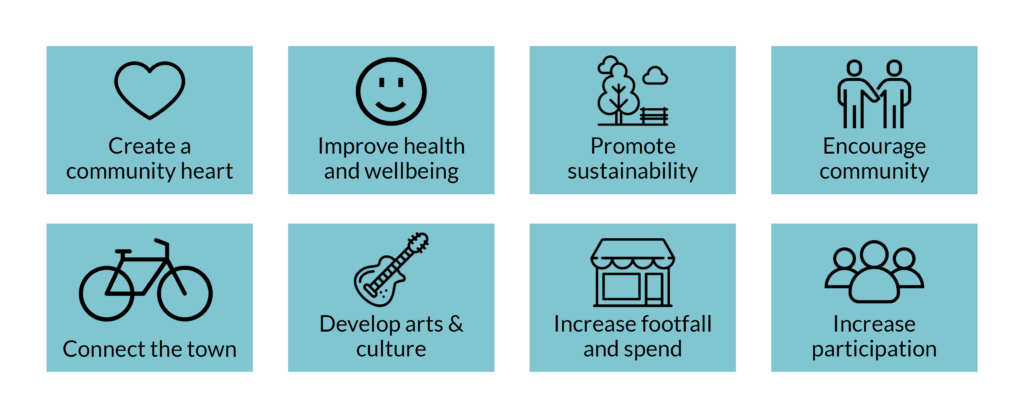 Thinking for the future of Farnborough
We are currently exploring an exciting new way to think about placemaking, where development is designed so that everything you need to live, work and enjoy your time is in reach within a 15-minute walk or bike ride.
This is 21st Century thinking for the future of Farnborough. Looking at a new place in this way reveals different possibilities for sustainable town centre living, and allows people to celebrate their community, shop local, access services, work collaboratively and socialise with friends.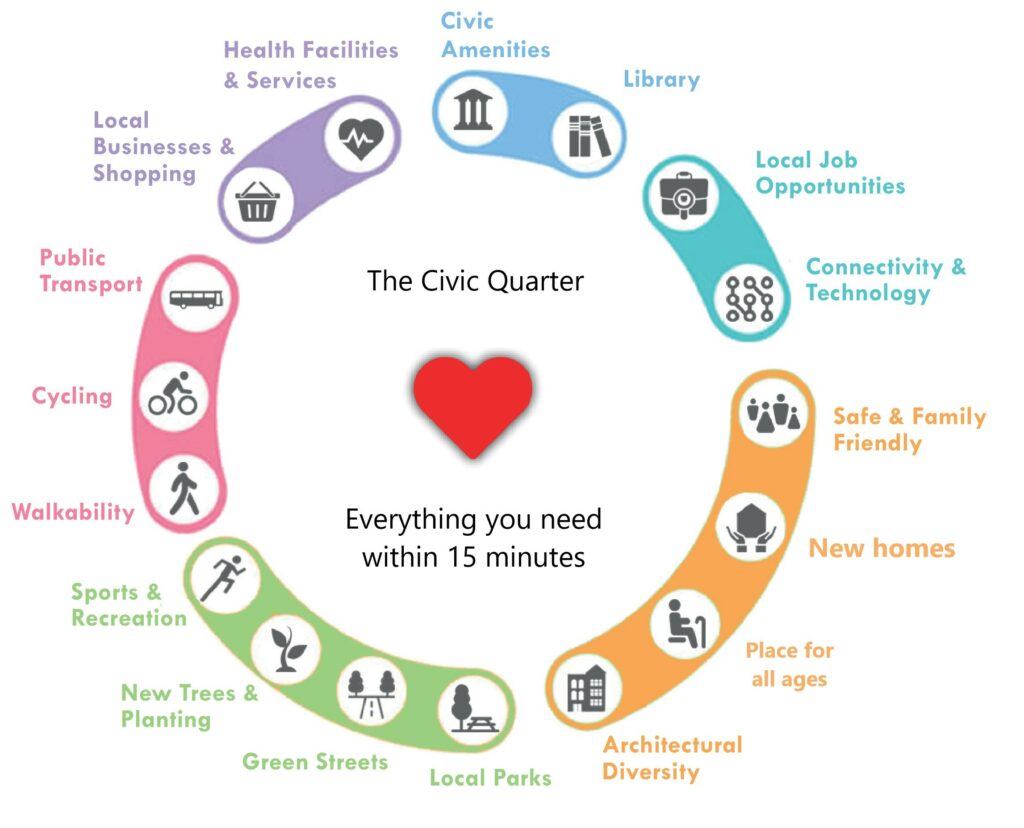 Public consultation and next steps
Thank you for all of your feedback on what you would like to see as part of the Masterplan for the redevelopment of  Farnborough's Civic Quarter.
All of the feedback received will be reviewed by the RDP and will assist in bringing  forward a Masterplan for the Civic Quarter. Further public consultation will take place to seek the communities' views on this Masterplan, before this is finalised and a planning application is submitted to Rushmoor Borough Council for determination, likely Summer 2021.
Civic Quarter - Your Questions Answered