The Civic Quarter site sits to the south of Farnborough town centre. The RDP has identified it as an opportunity to develop a new heart for the town. 
The RDP's vision is for a vibrant mixed-use space providing new opportunities for town centre living alongside active ground floor uses, such as cafes and restaurants, the leisure centre, library and community centre focused around an improved central green space.
Civic Quarter - the site today
The Civic Quarter is home to Farnborough Leisure Centre, Farnborough library, Westmead House (offices), Elles Hall, a skate park, surface car parks and a public green space. It is also the site of the now-demolished police station. 
Civic Quarter - initial thoughts
We are at a very early stage of creating redevelopment proposals for the Civic Quarter site, and will be seeking the views of local people and key stakeholders before moving forward with any plans. 
The initial proposals are likely to include:
Leisure Centre 
Residential
Hotel
Commercial – offices
Restaurant and cafes
Shops
Food store
Health facilities
Flexible community space
Skatepark
Library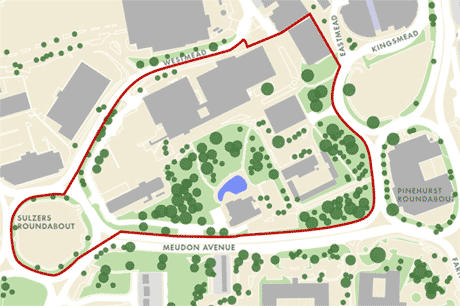 Civic Quarter - engagement
We are currently organising our first engagement event. We will send more information and invitations to local residents, and all will be welcome to give their feedback on our proposals. 
If you would like to join our mailing list to find out about the events once arranged, please sign up to our mailing list below. 
Disclaimer: Completed comment forms are collated by Snapdragon at PLMR on behalf of the Rushmoor Development Partnership and may be passed on to Rushmoor Borough Council for consideration when determining the plans. Your details will be held securely in line with the General Data Protection Act 2018 and by providing your details you are opting in to receive updates regarding the project moving forward. All employees and contractors who have access to your personal data or are associated with the handling of that data are obliged to respect your confidentiality and are bound by the General Data Protection Act 2018.